With a special shout out of thanks to former President Harry S. Truman, every third Saturday in May we set apart to honor those in uniform on Armed Forces Day. On May 15, 2021, we will pay tribute to those in service in the United States military. Armed Forces Day is for all active or reserve military serving in the Army, Navy, Air Force, Marine Corps, Coast Guard, and the Space Force. The day also includes those who serve in the Army National Guard and the Air National Guard.
Origin of Armed Forces Day
At one time there was a single day set apart for the individual branches of the Army, Navy, and Air Force. In August of 1949, this changed when the all branches were unified under the Department of Defense. During the Presidential Proclamation of Feb. 27, 1950, President Truman stated:
"Armed Forces Day, Saturday, May 20, 1950, marks the first combined demonstration by America's defense team of its progress, under the National Security Act, towards the goal of readiness for any eventuality. It is the first parade of preparedness by the unified forces of our land, sea, and air defense."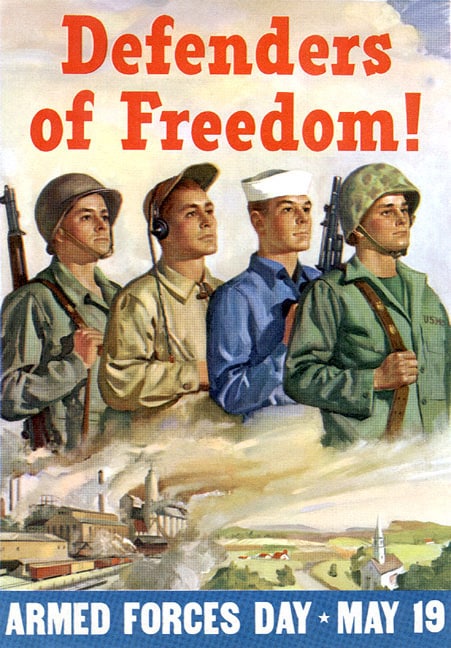 First Armed Forces Day – May 20, 1950
Indeed, the first formal Armed Forces Day had as its theme, "Teamed for Defense." This was to indicate the important change towards unification of all the military forces under the single Department of Defense. However, the theme had other goals of public education on the importance of the military to everyday Americans, and what the military accomplished.
The first Armed Forces Day was marked by parades, air shows, open houses, and receptions that gave interested public access to military personnel. There were troops of all branches, cadets, and veterans alike that marched by the President in Washington D.C. An estimated 33,000 people initiated the new holiday "under an air cover of 250 military planes." In harbors across the country, many of the battleships of World War II, the New Jersey, the Missouri, the North Carolina, and the Iowa, were displayed and open for public access.
How to Celebrate in 2021?
There are many ways to celebrate Armed Forces Day locally. A quick internet search with my city and "Armed Forces Day" brought up several events nearby. Due to covid restrictions, national or state historical or educational military displays might not be open, but it is worth researching your area. There are sometimes parades, luncheons, motorcycle rides, walk/run races, military service displays and open houses, or other celebrations that honor our men and women in uniform.
You can wear the red, white, and blue, fly the American flag, make sure to thank a veteran or someone you know that is serving, donate to a military or veteran cause—these are just some of the ways we can show our appreciation. No matter how you celebrate Armed Forces Day this May 15, 2021, it is worth taking the time to say thank you. As the saying goes, "Freedom isn't free." That saying is as true today as it has been at any time during our great nation's history. Those in the thin green line deserve to know we appreciate them.