Religious differences often divide us. But, this is the story of four courageous men, four United States Army chaplains, that would unite and work together to save many lives, and ultimately sacrifice their own.
The Four Chaplains of Four Chaplains Day
George Lansing Fox
Born in 1900, George Lansing Fox was already a decorated World War I veteran when he joined up with the United States Army in 1942. He was married with two children, a son and a daughter. He studied theology at Moody Bible Institute and Illinois Wesleyan University, and graduated in 1931. He was a Methodist minister in the state of Vermont, and also state chaplain and historian for the Vermont American Legion. He attended Army Chaplains school at Harvard. On August 8, 1942, he began active duty on the same day his own son joined the Marine Corps. He was 42 when he embarked on the USS Dorchester.
Alexander David Goode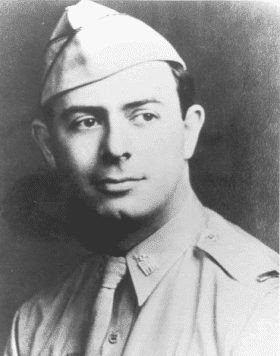 Born in 1911, Reform Rabbi Alexander D. Goode (PhD) was raised in Washington, D.C., and became a rabbi in 1937. He obtained his Ph.D from Johns Hopkins Univerity in 1940 and was serving as a rabbi in Marion, Indiana, and York, Pennsylvania before the war. He was married with one daughter. He joined the United States Army in 1942 and attended Army Chaplains school at Harvard. He was 31 when he embarked on the USS Dorchester.
Clark Vandersall Poling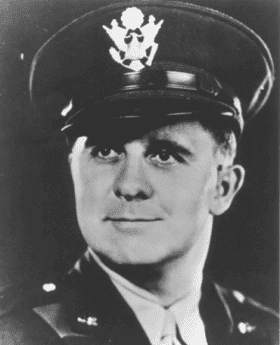 Born in 1910, Clark Vandersall Poling grew up in Massachusetts and New York. After graduating from Yale Divinity School in 1936, he took over the pastorate at First Reformed Church in Schenectady, New York. He was married and had a son and his daughter was born after his death. In 1941, at the beginning of the war, he was eager to serve and volunteered for service as an Army chaplain. He initially served with a transport regiment, but in 1942 was transferred to Army Chaplains School at Harvard. He was 32 when he embarked on the USS Dorchester.
John Patrick Washington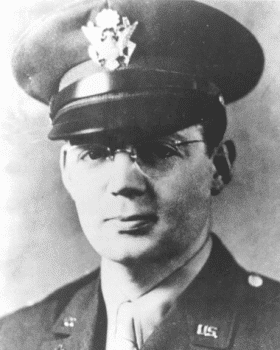 Born in 1908 in New Jersey, he studied at Seton Hall, a private Roman Catholic univerisity, also in New Jersey. Graduating in 1931 with his bachelor's degree, he entered Immaculate Conception Seminary in Darlington, New Jersey. He was ordained as a Catholic priest in June of 1935. He joined the Army in 1942 after the attack on Pearl Harbor. He reported to Chaplains School at Harvard. He was 34 when he embarked on the USS Dorchester.
After completing their training at Harvard University, the four men, all with the official rank of Chaplain Lieutenant, met up again at Camp Myles Standish in Taunton, Massachusetts. There they, along with 900 other soldiers, prepared to board the USS Dorchester to deploy to the United Kingdom via the waters near Greenland.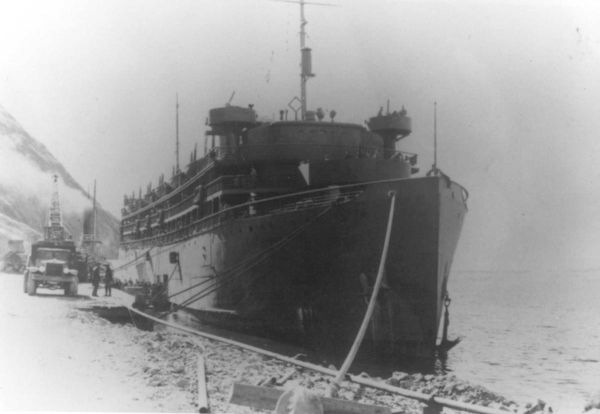 Right after midnight, on February 2, 1943, the Dorchester took a torpedo hit from the German submarine U-223. The torpedo took out the electrical system of the ship and plunged it into darkness. Panic set in as the hundreds on board tried to get into a life jacket and onto a lifeboat. The chaplains sought to organize the evacuation and calm the men and helped to pass out life jackets and assist them onto the lifeboats.
When the jackets ran out, the chaplains gave their own to others. They helped as many as could fit into the boats and prayed with the remaining men. It is said they linked arms, prayed prayers, sang hymns, and went down together with the ship. Many survivors said they heard the chaplains praying in different languages as they and over 600 souls slipped under the waves. Out of 904 on board, only 230 were rescued alive due to hypothermia.
As I swam away from the ship, I looked back. The flares had lighted everything. The bow came up high and she slid under. The last thing I saw, the Four Chaplains were up there praying for the safety of the men. They had done everything they could. I did not see them again. They themselves did not have a chance without their life jackets. — Grady Clark, survivor
All four chaplains were posthumously awarded the Purple Heart and the Distinguished Service Cross. Congress authorized a special medal, Four Chaplains' Medal, in 1960. It was given to their next of kin in 1961.
Four Chaplains Day
In 1998, in recognition of the great sacrifice and heroism of George Lansing Fox, Alexander David Goode, Clark Vandersall Poling, and John Patrick Washington, the Senate resolved to commemorate the 55th anniversary of the sinking of the USS Dorchester. Now, on February 3 of every year, the greatest sacrifice of these men is remembered. The celebrations vary from a solemn proclamation to services and programs.
In 1951, President Harry S. Truman dedicated a chapel in their honor at Grace Baptist Church of Philadelphia. The President said, This interfaith shrine... will stand through long generations to teach Americans that as men can die heroically as brothers so should they live together in mutual faith and goodwill.