"Fire!" From time immemorial that one word has held the power to instill fear and terror like no other. We take for granted the thin red line will be there for us when and if the worst should happen to our home. However, there was a time in history when the only answer was a bucket brigade.
The Creation of the Fire Services
Every colonist in town had a fire bucket, and hand over hand, the water would slosh its way to the blaze. While the whole town would turn out to help, most of the time the loss was terrible.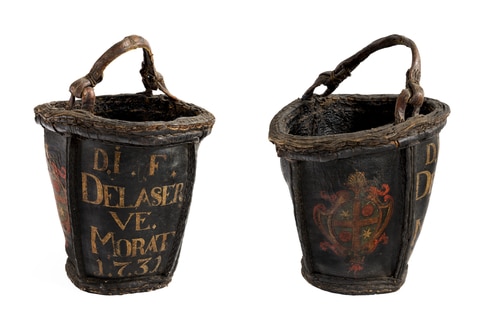 Early colonials lived with fire every day by using open fireplaces for heating and cooking. They lit their homes with pine torches, candles, and metal "betty lamps" that burned grease. Women wore wool and linen dresses that were flame-resistant as their cooking was done in heavy iron pots hung over open flames, but they did sometimes catch fire. Homes were made of wood, rooves were thatched, and the houses were stacked close together on narrow winding streets. This made colonial firefighting difficult and treacherous at best.
First Colonial Fire Department
As a waterfront town subject to high winds and a population approaching 7,000, Boston, Massachusetts was the first in the colonies to acknowledge that something more than neighbors with buckets was needed. In 1631, the town leaders recognized that thatched rooves and wooden chimneys were a major fire hazard and banned them from use. In 1678, building code required tile or slate on the roof and bricks in the walls.
Boston's biggest change came in January of 1678 when they founded the first official fire department with paid firefighters. Thomas Atkins was hired as the first fire chief and twelve men were engaged to assist him. Early firefighting was difficult with few tools and fewer men. England's creative minds developed new firefighting machines following the terrible destruction of London's Great Fire in 1666. Damages were estimated to be £1.5 billion in modern money, so the need was extreme.
The new "engine" Boston purchased was carried with poles, three feet long, and had a wide wooden box that utilized a direct-force pump that fed water into a small hose. The box was kept full by the use of the bucket brigade. A photo of this early engine can be found at the Boston Fire Historical Society site.
An ounce of prevention is worth a pound of cure.

-Benjamin Franklin
This quote applies to a lot of things in life from health to warfare, but Benjamin Franklin wrote it concerning fires in the home and printed it anonymously in his own newspaper. During a visit to Boston, he was impressed by their fire department and the way their building ordinances reduced the risk of fire, so he took the knowledge back to his home city of Philadelphia.
In 1736, Franklin helped establish the Union Fire Company. It was the first of its kind in the city. Each of the volunteers were required to purchase six leather brigade buckets and two "stout linen bags." The bags were used to secure the property that was in danger of fire from the risk of theft. (It would seem that looting was just as much a problem in colonial days too.)
Union Fire Company members committed to responding to any fire alarms and fighting the blaze. While many other fire protection societies only protected their paying members' property, the Union Fire Company helped anyone that needed it.
Franklin's Legacy
Franklin's private firefighting system operated in Philadelphia for 135 years. The Philadelphia Fire Department took over in 1870, but they recognize their founder as Franklin. In fact, he was so influential in the development of the fire service in the United States, that the International Fire Chiefs Association's most important award is called the International Benjamin Franklin Fire Service Award for Valor.
The award is given to "...a firefighter for his or her expert training, professional service and dedication to the duty displayed in saving a human life." Known today as an inventor and a stateman, it can be argued that his greatest gift to society was his early promotion of the thin red line.